Grace Yi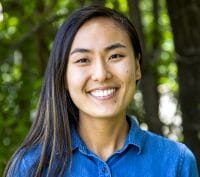 Grace joined the Practical Farmers of Iowa in May 2019 as a Green Iowa AmeriCorps Land and Water Steward.
Growing up in Hawaii and having a hydrologist father, Grace naturally developed an appreciation for and a desire to protect the environment from a young age.
Upon graduating from Creighton University with a degree in environmental science, Grace volunteered full-time for one year in inner-city Philadelphia with Mercy Volunteer Corps. During this year, she witnessed how solving environmental issues improved the quality of life in surrounding communities. This experience inspired Grace to professionally and personally work towards addressing social justice issues through the restoration of the environment.
Since then, Grace has worked at an environmental education center, environmental consulting firm, and volunteered her time at urban farms. Grace became particularly interested in agriculture and food systems within the sustainability sector because of their direct impacts on both the environment and human lives.
Currently, Grace is pursuing a MS in Sustainable Agriculture and a Master of Community & Regional Planning program at Iowa State University. Her ongoing thesis research explores variables that affect Iowa farmers' decision-making process in adopting prairie strips conservation practice.
In her spare time, Grace enjoys spending her time outdoors, traveling, cooking, working out and playing with (unfortunately not her) pets.