Cover Crop Field Day – Orange City
Cover Crop Field Day – Orange City
Wednesday, April 3 | Orange City, Iowa | 4 – 7 p.m.
Hosted by: Jon Kiel
Starting Location: 4449 Hickory Ave., Orange City, IA
Second Location: Sioux County Archery Club at Sandy Hollow Recreation Area, 3413 400th St., Sioux Center, IA
Event Description:
Jon will share his recipes for success when it comes to using cover crops in corn-soybean management systems. He will also share how the Kiels are starting to grow their own cover crop seed, as well as the opportunities for using diverse cover crop mixes this strategy provides. We'll start in the field to view some cover crops before moving indoors for further discussion and a meal.
Topics:
How to get started with cover crops
Cover crop species selection
Cover crops in diversified crop rotations
Other Speakers:
Colton Meyer – watershed coordinator for the West Branch of the Floyd River Water Quality Initiative demonstration project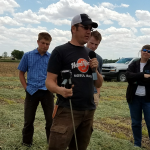 About Jon:
Jon Kiel farms with his wife, Crystal, and three children: Emmett, Amelia and Clayton. He is the third generation on the farm and looks forward to bringing up the fourth. Jon has worked as a mechanic, welder and an engineer, but he says "there's nothing like being on the farm."
Meal Information:
Supper will be provided at the Sioux County Archery Club near the end of the event.
Please RSVP by March 29.