Cover Crops
Practical Farmers provides farmers and agency personnel with information, anecdotes and research about adding cover crop to current conventional, organic or other farming systems.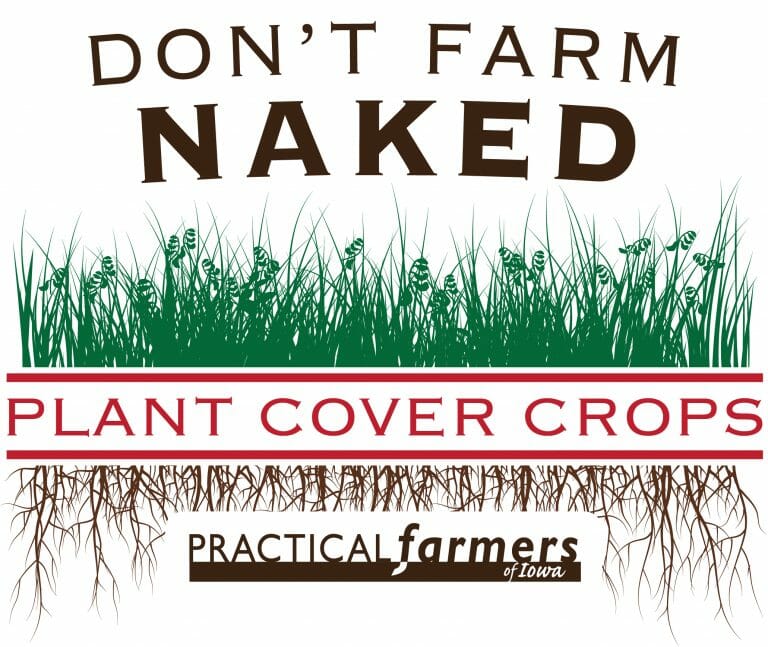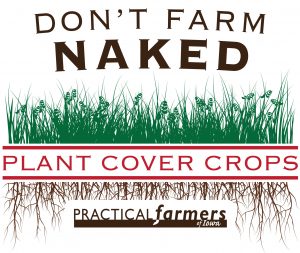 Cover crops are plants such as small grains, legumes, brassicas and others that are planted between cash crop seasons to keep a living cover on the landscape. Numerous studies have shown these plants can help protect soil and water quality, reduce chemical input costs, improve farm resiliency, boost yields, increase forage availability and improve wildlife habitat.  In Iowa, the number of cover crop acres has increased dramatically over the past several years — from fewer than 10,000 acres in 2009 to about 600,000 acres in 2016.  Practical Farmers of Iowa has played a central role in bringing about this transformative change to the landscape.
Learn More About Cover Crop Cost Share Opportunities
Sign up for our cover crop e-newsletter
---
On this page:
---
Cover Crop Resources
Developing a Winning Cover Crop Plan
Grazing Cover Crops Fact Sheet
Contract Grazing Cover Crops Fact Sheet
Corn Herbicides and Grazing Restrictions
Soybean Herbicides and Grazing Restrictions
Corn Following a Cereal Rye Cover Crop
---
Annual Conference sessions
2017
2016
| Topic | Speaker | Presentation PDF |
| --- | --- | --- |
| Inter-Seeding Cover Crops to Corn |  Bryce Irlbeck | PDF |
| Rolling Cover Crops with Modified Equipment |  Dave Schmidt | PDF |
| Rolling Cover Crops with Modified Equipment |  Francis Thicke | PDF |
| Rolling Cover Crops with Modified Equipment |  Doug Alert | PDF |
2015
2014
2013
| Topic | Speaker | Presentation PDF |
| --- | --- | --- |
| Cover Crops 101 | Rob Stout |  PDF |
| Cover Crops 101 | Tom Kaspar | PDF |
2012
| Topic | Speaker | Presentation PDF |
| --- | --- | --- |
| Cover Crops:  101 and Advanced | Paul Ackley | PDF |
| Cover Crops:  101 and Advanced | Dave Robison | PDF |
| Benefits of Cover Crops | Tom Kaspar | PDF |
| Benefits of Cover Crops | Dave Robison | PDF |
---
Other Resources
Economic Value of Cover Crops (ILF)
A recent study, conducted by Iowa Learning Farms (ILF), Iowa State University Extension and Outreach, and Practical Farmers of Iowa, was to find the economic value of reduced soil erosion and reduced nutrient loss from cover crop use.
Cover Crop Termination Guidelines (NRCS)
To ensure that USDA policies are coordinated and up to date with evolving cover crop practices, the administrators of the Natural Resources Conservation
Service (NRCS), Risk Management Agency (RMA) and Farm Service Agency (FSA) organized an interagency workgroup to develop consistent, simple and
flexible policy across the three agencies.
Prevented Planting Fact Sheet (NRCS)
Discover the facts and benefits about using cover crops to improve soil in prevented planting fields, including building topsoil and nitrogen.
Managing Cover Crops Profitably (SARE)
For more information on how and why cover crops work, check out the book Managing Cover Crops Profitably by the Sustainable Agriculture Network, available as a free download.
Midwest Cover Crops Council (WIU)
For information about cover crops throughout the Midwest, visit the Midwest Cover Crops Council Website. Their 136-page guide will help you effectively select, grow, and use cover crops in your farming systems. You can purchase a copy for just $5.
Cover Crop Alternatives (WIU)
Interested in adding cover crops to your farm? Joel Gruver's Cover Crop Alternatives presentation shows how you can more easily add cover crops to your farming system.
Ohio State University Sustainable Crop Rotations with Cover Crops (OSU)
Estimating Plant-Available Nitrogen Release from Cover Crops, Oregon State
Cover Cropping for Pollinators and Beneficial Insects (SARE)
This 16-page bulletin will help you use cover crops to encourage populations of pollinators and beneficial insects on your farm while you address your other resource concerns.
---
Tools
Midwest Grazing Exchange
Expanding integrated crop-livestock systems can offer a range of benefits for farmers, the environment and rural communities. But accessing land to graze, or finding livestock farmers to partner with, can be a barrier.
The Midwest Grazing Exchange is a free matchmaking service that aims to connect graziers seeking land to graze with landowners in six Midwestern states. It was created to help farmers in Illinois, Indiana, Iowa, Minnesota, Missouri and Wisconsin find livestock or land to graze.
Other Tools
Iowa Learning Farms Calculators
Midwest Cover Crops Council- Cover Crop Decision Tool
Green Cover Seeds Smartmix Calculator
---
Partners
With cover crops promising such tangible benefits for farmers and the environment, Practical Farmers is working to increase cover crop use in Iowa and the Midwest. Iowa Learning Farms has been a key partner in these efforts, as well as the Natural Resources Conversation Service, USDA Agricultural Research Service, Leopold Center for Sustainable Agriculture, the Iowa Department of Agriculture and Land Stewardship and the Risk Management Agency. In addition several private companies including seed-houses, aerial applicators and cooperatives have also worked with Practical Farmers to decrease barriers for farmers wanting to add cover crops.
American Society of Agronomy Cover Crops Webinar Series
---
Contact Information
For more information about on-farm research or cover crops programming: contact Stefan Gailans at stefan@practicalfarmers.org or Sarah Carlson at sarah@practicalfarmers.org.