Frequently Asked Questions about Small Grains Markets
By Alisha Bower
When considering whether or not to grow small grains, one of the main things farmers consider is: can I sell them? In order to answer this big question, farmers often have to answer several smaller questions about who they can sell to, the logistics of how to sell and what quality metrics and thresholds are expected.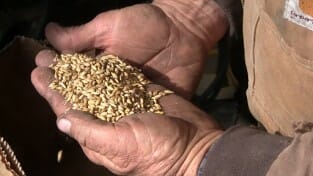 To help farmers answer these questions, we convened the second small grains shared learning call on February 3. Jessie VanderPoel from Grain Millers in St. Ansgar, IA, Tim Marlin from the DeLong Company in Wisconsin and Scott Woodside from Cargill in Missouri all talked about how they price and buy small grains for their milling facilities to answer the following frequently asked questions about small grains markets.
Where are you located and what small grains do you buy at your facility?
Grain Millers has a large mill in St. Ansgar Iowa that mainly buys conventional and organic oats. They also buy organic and conventional barley, rye, hard red wheat and soft white wheat. Additionally, they buy conventional triticale.
DeLong Company buys some oats, but mainly deals with soft red winter wheat in their elevators throughout Wisconsin and northern Illinois.
Cargill has two locations that accept both soft and hard wheat in Kansas City. They also buy oats and wheat at their feed mill.
Do I need to get a contract before I plant or can I take it to the elevator after harvest and get a spot contract?
The Grain Millers oat mill requires a scheduled delivery date and time, getting a contract before you plant is the only way to secure the delivery time you want. For crops other than oats, they do more spot contracting so give them a call to find out if they're buying.
For the DeLong Company, Tim suggests selling 25% of the crop through contracts when it's planted in the fall, 25% if the crop comes out of winter well, and then sell the remaining 50% at the elevator after harvest.
If you plan to sell to the Cargill feed mill in Kansas City, you will need a contract as they have limited storage on site; however, their food-grade mills do either forward contracting or spot contracting.
What are the test weight and moisture level requirements?
Test Weight
Moisture
Grain Millers (IA)
Oats
38 lbs (accept down to 36 lbs with a discount)
10%-13.5%
DeLong Company (WI)
Soft Red Winter Wheat
Target 60 lbs (usually get 56-58 lbs)
 13.5%
Cargill (MO)
Soft Red Winter Wheat
58 lbs
13.5% (discount over 13.5%)
Hard Red Winter Wheat
57 lbs
13.5%  (discount over 13.5%
How do I predict prices?
Small grains are a "carry" market, meaning that the longer you can store your grain after harvest the higher of a price you will get for them. Grain Millers is predicted oat prices of $2.90/bushel for Aug-Oct and $3/bushel for Nov-Dec in 2017.
Oat prices are driven by Canadian production; therefore buyers do not pay attention to the Chicago Mercantile Exchange. Call your buyer to find out the price instead. Wheat prices are predicted through more traditional channels like the Chicago Board of Trade. The DeLong Company uses the July futures for this year which are $3.5-$4/bushel. Cargill deals with enough farmers that their current prices and bids are online at https://www.cargillag.com/.
Margaret Smith also spoke about pricing and marketing for straw, a topic that was so packed with information, I'll share it in its own blog. Check out the next shared learning call recap about For more information on growing small grains, visit our small grains resource page.