Tony Sarabia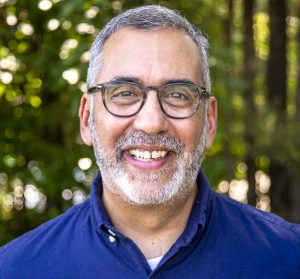 Tony Sarabia joined the Practical Farmers of Iowa staff in mid-July as the new farmer outreach coordinator, a newly created position dedicated to helping farmers share their stories with each other and the broader public. In this role, Tony coaches farmers on talking to the media and speaking at events. He also interviews farmers for articles and podcasts; writes articles for PFI's blogs and quarterly magazine; and helps farmers write op-eds and get them placed in local media outlets.
Before this, Tony had recently retired from a nearly 30-year career at Chicago Public Media-WBEZ Radio. His list of duties during his long career at the station included working as a general assignment reporter, Chicago City Hall correspondent, news anchor, arts editor and host of the station's flagship daily public affairs program, "The Morning Shift." Tony says his six-year run as "Morning Shift" host was a career highlight because he got to talk to a wide range of people every day: politicians, comedians, musicians, chefs, neighborhood activists and a six-year-old science podcaster. Tony enjoys hearing about people's lives and experiences and brings that passion to his position at PFI.
Tony was born in Chicago and raised in Oak Park, the home of writer Ernest Hemingway and famed architect Frank Lloyd Wright. Despite an urban upbringing, Tony's always had a soft spot for open spaces. As a child, his family would often visit a family farm near Ludington, Michigan, where upon arriving, he'd run straight to the barn, stand in the middle of the building, close his eyes and take a deep breath, inhaling to his delight, a combination of hay and animals.
Tony says he never imagined ending up in rural Iowa and working for an organization that shares his values on issues such as land stewardship and water conservation.
He currently lives in a late 19th century fixer-upper in Panora with his partner, Andy Arganbright, a Panora native who grew up on his family's Heritage Farm. Tony and Andy' s long-range plan is to take over part of the 160 acre  farm to raise meat goats, rabbits and perhaps a small grove of chestnut trees.
In the meantime, Tony is excited about not only helping farmers tell their stories, but learning himself from farmers – knowledge he and Andy will be able to use down the road when they create their homestead. He'll also keep busy on the new house, getting it set up so that his family, including his adult sons Julian, Alex and Matt, can come share in a rural Iowa experience.
---