Sign Up for 2019 Small Grains Cost Share
By Alisha Bower
To sign up for 2020 small grains cost share, head to this page.
Have you heard the good news? PFI was awarded a new NRCS Conservation Innovation Grant that will allow us to continue offering small grains cost share in 2019-2021. And now we will have the opportunity to offer the cost share in more states!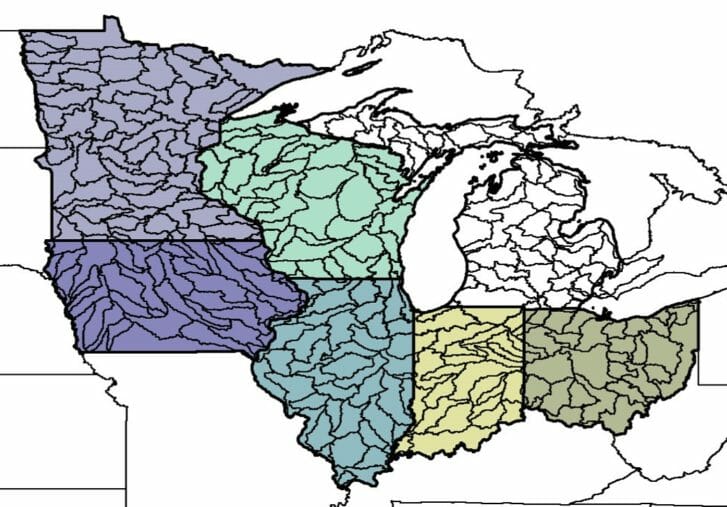 Our new CIG award allows PFI to cost share small grains grown in Illinois, Indiana, Iowa, Minnesota, Ohio and Wisconsin.Our cost share reimburses farms $25/acre for planting a small grain that is harvested in 2019 and followed with a cover crop that includes a legume. This includes systems like an oat crop planted in spring of 2019 with a frost seeded red clover or alfalfa under-seeding or a cereal rye crop planted in fall of 2018 with a big cover crop mix planted after rye harvest that includes species like hairy vetch, field peas, crimson clover or other legume varieties. Planting a soybean crop into or after the small grain does not qualify as an acceptable legume cover crop for this program. Small grains include barley, oats, rye, triticale and wheat, either winter or spring varieties where both are available.
Farmers can enroll up to 100 acres in the program per year. In 2019 we will have 5,000 acres of cost share available to contract across Illinois, Indiana, Iowa, Minnesota, Ohio and Wisconsin. In 2020 that will increase to 7,000 acres and further to 8,000 acres in the final year, 2021. Certified organic production is ineligible for cost share, however transitional acres may access this resource. This cost share cannot be "doubled up" with another cost share source on the same field such as an NRCS Environmental Quality Incentives Program practice 328 for extended rotations. You can read the full list of eligibility and program requirements in the program flyer.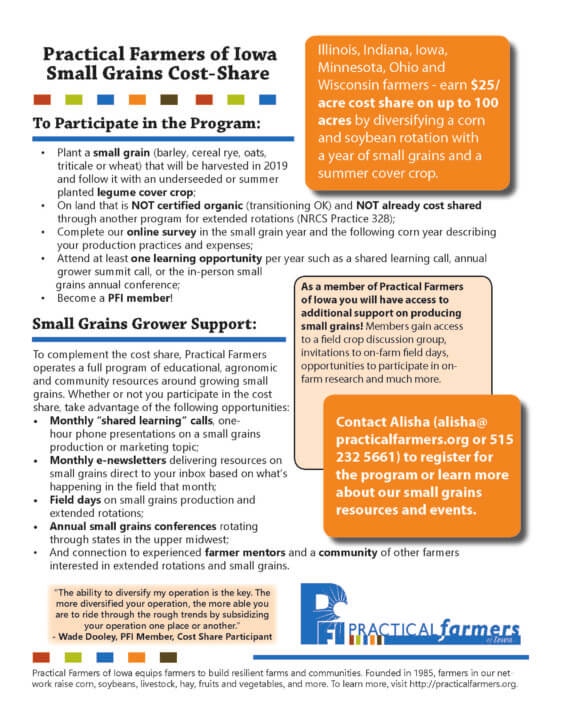 Some farmers who participate in the cost share will be selected or can volunteer to participate in more in-depth research on extended rotation systems by completing production surveys about their operations and expenses for each year in their rotation that involves three or more years. This data will be used to populate sustainability tools used by the USDA and private food and beverage companies and allow us to create enterprise budgets to aid farmers as they plan to transition into longer rotations.
To sign up for the 2020 small grains cost share, head to this page.