Beginning Farmer Socials
Join other beginning and aspiring farmers to take a break from the growing season and share a good meal. Build your farming network and learn from others who have similar (or different!) farm ventures than you.
---
August 18 | 5-7 p.m. | Cambridge
Caleb Akin and Noah Wendt, A & W Farms
29630 600th Ave. Cambridge, IA 50046
Caleb Akin and Noah Wendt started A & W Farms in 2006. A&W Farms feeds cattle, produces conventional corn and soybeans, and a variety of organic grain. Hear from Caleb and Noah about their experience developing the operation from scratch.
---
September 15 | 5-7 p.m. | Carlisle
Alfonso Valenzuela Gumucio and Douglas Rooney, Gleann Daire Farm
14586 Scotch Ridge Road Carlisle, IA 50047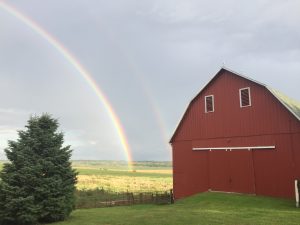 Alfonso Valenzuela Gumucio and Douglas Rooney started Gleann Daire Farm in 2018. They are currently raising laying hens and are building a mobile chicken coop to move the flock out onto the pasture. The newest residents at the farm include 10 Romeldale/CVM sheep and their llama guardians. Future plans include a high tunnel structure for cut flower and vegetable production, as well as 3 acres of vineyards. Join Alfonso and Douglas to hear about their first year establishing a diversified farm.
---
Beginning farmer socials are potlucks! A main dish will be provided, but please bring a side dish or dessert to share, as well as a lawn chair and beverage. RSVPs are appreciated!