Map of My Kingdom
Practical Farmers of Iowa commissioned the play, which was written by Iowa poet laureate Mary Swander. The play debuted in 2014 and has since traveled across the U.S., helping families to start conversations about their own farmland transfer situations and spreading awareness about the need to plan for a farm's future.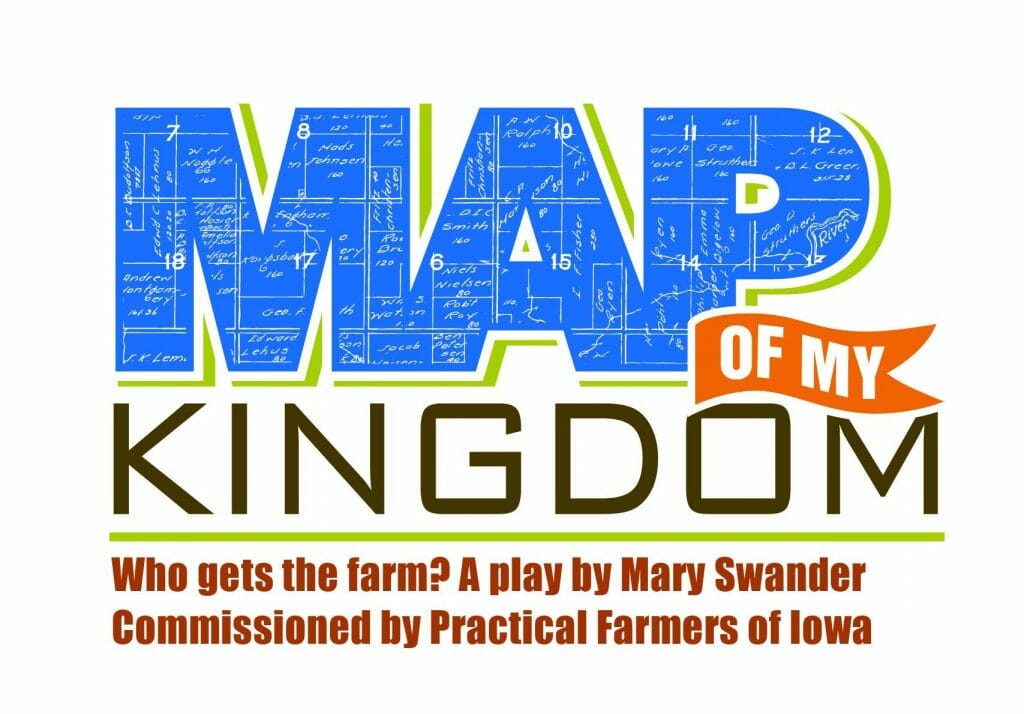 In Iowa alone, 60 percent of farmland is owned by people 65 years or older, and a record 35 percent of land is owned by people 75 years or older, according to the most recent Iowa Farmland Ownership and Tenure Survey released last summer by Iowa State University.
"'Map of My Kingdom' is a good way of getting at the tremendous farmland transition that is about to take place in Iowa, as elderly landlords begin to pass on," says Dan Wilson, a member of PFI's Farm Transfer Committee who farms with his family near Paullina. "Many farmers will lose farmland during this transition – their source of livelihood – unless we tackle these issues."
In the play, character Angela Martin, a lawyer and mediator in land transition disputes, shares stories of how farmers and landowners approach their land transitions. Some families struggle to resolve the sale or transfer of their land, dissolving relationships. Others find peacefully rational solutions that focus on keeping the land – and the family – together. The play runs just under one hour. It will be followed by a discussion with the audience.
---
About Mary Swander
Mary Swander is the poet laureate of Iowa. She has published over 13 books of poetry and non-fiction, in addition to plays, radio and television scripts and magazine articles. She has appeared in such places as The New York Times Magazine, National Public Radio, The New Yorker and Poetry Magazine.
Mary's plays "Driving the Body Back," "Vang" and "Farmscape" have toured the U.S., including a performance for former U.S. Secretary of Agriculture Tom Vilsack and his staff at the USDA. Mary lives and raises most of her own food on a small acreage in the Amish settlement near Kalona, Iowa. She has experienced three generations of land transition within her own family. Learn more at www.maryswander.com.
---
2019 Performances
There is no cost to attend these plays. We are partnering with CFRA to bring several performances to locations across Iowa listed below.
Friday, March 1 – Fairfield – 7:30 p.m.
Fairfield Arts and Convention Center (200 N. Main St.)
Friday, March 8 – Iowa City – 7 p.m.
Johnson County Fairgrounds, Exhibit Hall A (4261 Oak Crest Hill Road).
RSVP to Debra Boekholder, debra@practicalfarmers.org or (515) 232-5661, by March 5.
Saturday, March 9 – Jefferson – 7 p.m.
History Boy Theatre (115 S Wilson Ave.).
RSVP to Debra Boekholder, debra@practicalfarmers.org or (515) 232-5661, by March 6.
Sunday, March 10 – Ames – 2 p.m.
Ames Public Library (515 Douglas Ave.)
Thursday, April 11 – Okoboji – 7 p.m.
Pearson Lakes Art Center (2201 U.S. 71).
Note: A free farmland legacy letter workshop will be held on Friday, April 12, at 11 a.m
RSVP for both events to Debra Boekholder, debra@practicalfarmers.org or (515) 232-5661, by April 8.
Saturday, April 13 – Waterloo – 2 p.m.
Grout Museum of History and Science (503 South St.).
RSVP to Debra Boekholder, debra@practicalfarmers.org or (515) 232-5661, by April 9.
---
The performances are supported by the Beginning Farmer and Rancher Development Program from the USDA National Institute of Food and Agriculture. As part of this program, Center for Rural Affairs is also holding four "Map of My Kingdom" performances in Nebraska set for Feb. 28 in Ord, March 2 in Brownville, May 7 in West Point, and May 9 in Norfolk. Dates and locations are listed on CFRA's website.
---
Farmland Legacy Letter Workshop
Friday April, 12 – Milford – 11 a.m.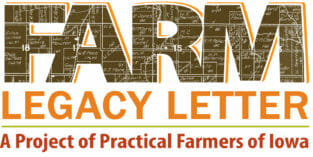 Iowa Lakeside Laboratory (1838 Iowa Route 86)
Cost: Free
RSVP to Debra Boekholder, debra@practicalfarmers.org or (515) 232-5661, by April 8.
Description:
Participants leave with a solid draft of a letter that offers basics about their farmland, their strongest memories and what they want most for their farmland's future. The workshop involves much interaction between workshop participants, sharing of example Farm Legacy Letters, and if participants, choose, the sharing of their own letters.
The Farm Legacy Letter works for those who have done much transition planning as well as those just starting to think about farm transfer. The Legacy Letter is a document with practical information, with "heart and soul" and with vision.
What a Farm Legacy Letter is:
Time and space to reflect and write about one's farm's past, present and future
Help contemplating a strong draft and or finished letter
A document that can help start a conversation with one's heirs
Participants are welcome to come just for the workshop — but are encouraged to attend the "Map of My Kingdom" performance the night before at the nearby Pearson Lakes Art Center in Okoboji.